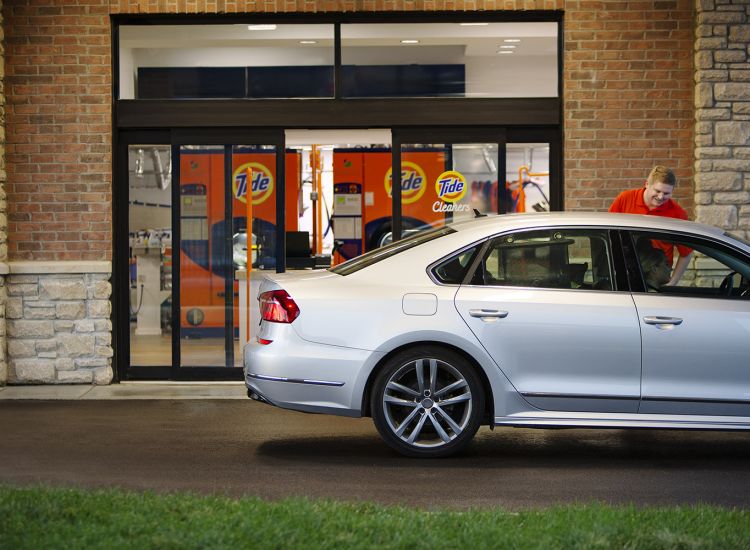 We're Open!
Tide Cleaners is still open for business and will continue to take new orders, but we are taking steps to ensure we do our part to minimize the spread of the virus for our staff and guests. Please check with your local store for updated hours of operation.
To follow the latest CDC guidance to minimize human interaction, Tide Cleaners will rely on its convenient drop-off and pick-up options for all orders:
24/7 Access - drop off and pickup your order off at your convenience, anytime night or day. Use our drop box for drop off and kiosk or lockers for pick-up.
Tide Cleaners Drive-Thru - no need to get out of your car to drop-off or pick-up your order. A Tide Cleaners guest service representative will come to you.
Delivery - Many Tide Cleaners stores offer FREE pick-up and delivery. Call your store to check availability in your market.
Find a Tide Cleaners Location Near You
Share Your Experience With Us!
Just the Right Fit
Tide Dry Cleaners offers much more than your average dry cleaning services. We take pride in providing a better service experience than anyone else. And we use Tide and GreenEarth ® Cleaning process to be easy on the environment and provide the quality clean you deserve.
4.3 Stars
Customer Reviews
95%
Customer
Satisfaction
Score
Exemplary service and staff. The timeliness and quality of the dry cleaning is second to none!!
- Lyndsee J. -
They rescued me when I needed a formal dress steamed with a quick turnaround!
- Amanda P. -
Find Us Right Around the Corner